Spicy Pumpkin Soup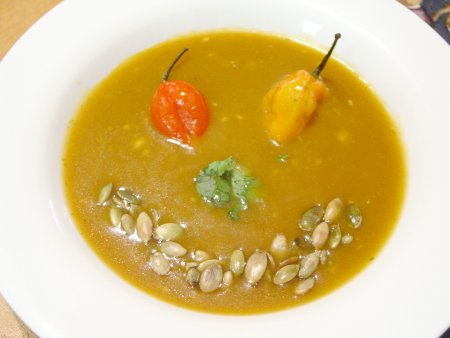 This is a simple, nutritious soup, combining canned pumpkin with some habañero chile peppers we bought at the local farmer's market. The chiles provide a wonderful, albeit spicy, kick that perks up the creamy soup. We serve the soup with the whole, split chiles, but be warned that they are
HOT
!
Ingredients
4

cloves

large

garlic

kosher

salt

½

tablespoon

vegetable

oil

1

inch-piece

fresh

ginger

2

medium

habanero

chile peppers

1½

cups

canned puree

pumpkin

3

cups

boxed vegetable

stock

cilantro

roasted

pepitas
We start by mincing our garlic with a pinch of kosher salt. We add this to our dutch oven with the oil, and start to heat over medium-low heat. With our microplane grater, we grate the piece of ginger right over the pot, being sure to get all the ginger that is on the underside of the grater. Being careful not to touch the chiles too much, we rinse them off and split them from just below the stem through to the bottom, lengthwise. We add these to the pot and stir. The garlic and ginger are sizzling and fragrant so we add the pumpkin puree and stir well. Then we add the stock, bring the soup to a boil, and simmer, uncovered, for 5 minutes.
We taste for seasoning, add salt, take out the habañeros since the soup is nicely spiced already, and reserve them for garnish. We continue to cook the soup another 10 minutes, partially covered, to meld the flavors.
We serve the soup sprinkled with cilantro leaves and roasted pepitas.