Portobello Mushroom Pizzas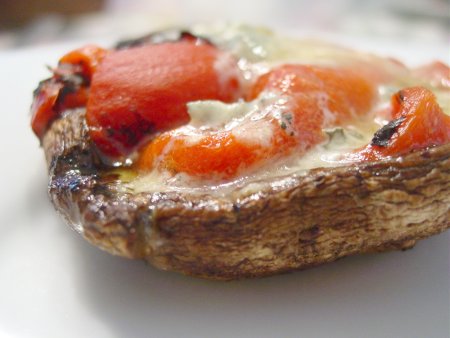 This simple side dish can easily become the main course to a vegetarian meal—either between a bun as a vegetable burger or with a salad as a crust-less "pizza". This blue cheese and roasted pepper version can be changed by varying the cheese and substituting any favorite pizza toppings.
Ingredients
3

medium

Portobello caps

mushrooms

1

tablespoon

extra-virgin olive

oil

salt & pepper

1

medium

canned, roasted, red

pepper

1½

ounces

blue veined triple-creme

cheese

(Blue Castello)
We start by preheating the grill.
We wipe the Portobellos with a damp cloth and remove the stems with a paring knife. Using a teaspoon, we scrape away the gills onto a paper towel and discard. The mushroom caps are placed on a dinner plate.
We slice the roasted red pepper and crumble the cheese into a bowl.
We rub the three caps on both sides with the olive oil and sprinkle with salt and pepper. We place the mushrooms gill-side down on the grill for about four minutes. We flip and top with the roasted pepper and blue cheese. The "pizzas" are cooked for another couple of minutes, with the grill cover down. The mushrooms should be tender and the cheese melted.