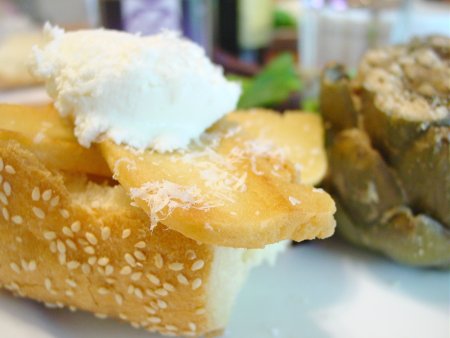 The active preparation time for these crunchy, salty, chickpea fritters is fairly short. The dough needs to set up in the fridge for a few hours (at least), so preparation needs to begin well in advance of serving time. The batter, which hardens like polenta in the fridge, is cut and pan-fried. The panelles are served in Robin's traditional family way—as a sandwich tucked inside sesame-crusted bread and topped with ricotta and Locatelli cheese.
We prepare the chickpea flour mixture the night before we want to serve.
We line a 22 by 11 by 6 cm loaf pan (1.5 L capacity) with parchment paper, allowing some of the paper to peak over the rim of the pan. We try smooshing the paper in, but it does not stay in well until we add the mixture.
In a medium pot, we whisk together the chickpea flour, water, salt, and 1 tablespoon of the oil until smooth. We cook over medium heat, stirring almost constantly, with a wooden spoon. We want the mixture very thick and pulling away from the sides of the pan. This takes about 20 minutes.
We transfer the mixture to the lined loaf pan, using only half of it. We want the panelles to have some height so we keep the mixture in half the pan and smooth the top with the spoon. We cool on the counter for a half hour, cover with plastic wrap, and refrigerate overnight.
When we are ready to fry today, we heat enough oil to lightly coat the surface of our 10 inch nonstick pan. Meanwhile, we remove the plastic wrap and lift the hardened chickpea flour block out of the loaf pan with the parchment paper and place it on the cutting board. We gently flip it over and discard the parchment. The surface is a little wet so we pat it dry with a paper towel. We slice the mixture crosswise into ¼ inch thick slices.
We test the oil with the handle of our wooden spoon. We immerse the flat end of the handle into the oil and, since we observe bubbles immediately around the handle, we know we are at a good frying temperature.
In the hot oil, we fry the sliced dough in a few batches. We cook a few minutes on each side until golden and transfer to a paper towel lined plate to drain. We could have kept the panelles warm in the oven on a baking sheet, but we serve right away while we continue to fry the remaining batches (adding oil as necessary).
The hot panelles are sprinkled with salt and served in a sandwich topped with ricotta cheese and Locatelli.