Baby Lettuce Salad with Parmesan Crisps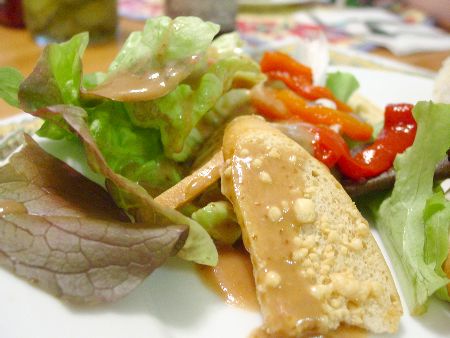 Robin concocted this salad when the baby wanted a bag of parmesan crisps at the supermarket—only to decide later that she did not like them! They take on a new life in the salad as an alternative to croutons or shaved cheese. Simple greens, roasted red peppers, crisp scallions, and a nutty dressing complement the crisps.
Ingredients
6

cups

Mesclun from Farmers' market

lettuce

12

ounces

net weight, bottled, fire-roasted

red peppers

(Trader Joe's)

1

large

scallion

4

ounces

bagged

parmesan crisps

(Trader Joe's)

1

recipe

walnut dressing
We start by putting the lettuce in a large bowl. On our cutting board, we slice the peppers into strips and dice the scallion. We add these to the lettuce along with most of the parmesan crisps.
We shake the dressing and add most of it to the salad bowl. We toss well, add the rest of the parmesan crisps, and drizzle on a little more dressing.