Ravioli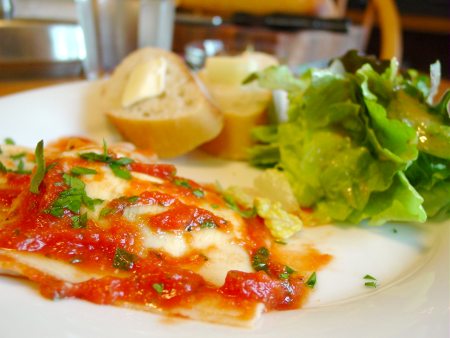 It's been over a year since we last tried to make
ravioli
. There's a good reason for the gap – they're a lot of work. We still think back to the squash ravioli as one the few recipes in our cookbook that is more trouble than it's worth. Tonight? The preparation was stressful, but definitely worth it.
The ravioli tonight was reminiscent of the
manicotti
of which we are so fond. Like the manicotti shell, the ravioli pasta are very tender. Like the manicotti, the ricotta filling is firm and tasty. And like the manicotti, the tomato sauce that accompanies the meal is perfectly balanced between sweet, spicy and succulent.
We've got to give at least partial credit for this meal to the new pasta roller attachment for our KitchenAid – we're kids with a new toy in every respect. The failing memory of our early thirties also helps by blocking out the struggle of the last ravioli. The preparation was sometimes contentious, but the reward is all that we'll remember.
On an unrelated note, Happy Birthday Uncle Brian! We had a good time at your party (and Aunt Kristen's) this weekend. We're already looking forward to your next visit.