Another Big Breakfast for Dinner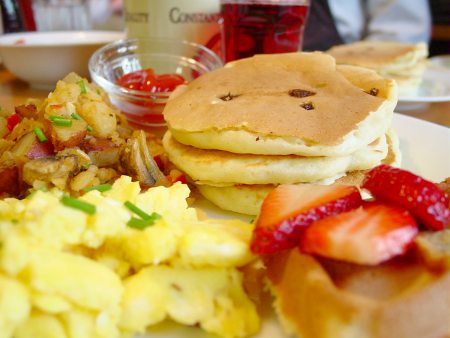 Aunt Sarah is back on her feet and able to join us for dinner. It's been a while and we've all missed her weekly visits, so we put together an extra special, extra big breakfast meal.
The reasoning behind the menu selection is as follows. We know that Aunt Sarah very much likes buttermilk pancakes and home fries. Our daughter insisted on buttermilk waffles after last week's waffle meal. Finally, we include some simple scrambled eggs because, as D-Dad always used to say, "You can't serve breakfast without eggs".
Robin is normally able to do the cooking with minimal assistance. That's not the case with our big breakfast meals, which are definitely two man jobs. Robin still does the bulk of the prep work while Chris entertains the kids in the family room.
Once we're ready to cook the meal, we split the work with Robin preparing the eggs and homefries and Chris monitoring the pancakes. We share the responsibility for the waffles.
Oh yeah, we had made an apple-pecan tart last night. We have a couple of slices after dinner.