Fried Calamari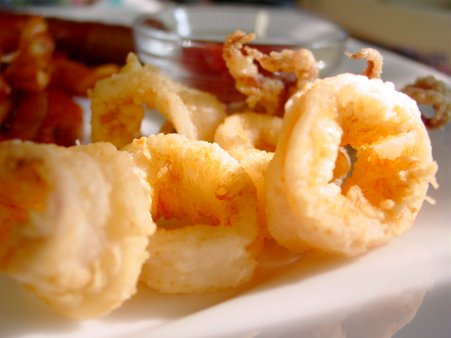 Whether you call it fried squid or fried calamari, it is wonderful! This simple recipe produces calamari that are, all at once, crispy, tender, and flavorful. As with all fried foods, these are best served hot.
Ingredients
We start tonight by rinsing the squid in a colander and placing them on a dinner plate. We cut the squid bodies into 4 rings using scissors.
Next we start heating our dutch oven over medium-high heat with an inch of oil. We place a candy thermometer inside the pot. We want the oil to reach 375 degrees to start frying.
In a large bowl we mix the flour with enough salt and pepper for it to taste seasoned. When the oil is almost to temperature, we toss about 5 rings and a few tentacles into the flour and stir with a fork. We lift these out and place them in a fine mesh strainer. We shake well over the flour bowl and we are ready to fry.
When the oil is 375 degrees, we use our chinese (spider) strainer to gently lower the squid into the oil. We stir with the spider and after about 2 minutes when the squid is browned, we remove with the spider to a paper-towel lined plate. We sprinkle with kosher salt and repeat with another batch of squid.
We eat the fried calamari as it is cooked, but we could have kept it warm in a 250 degree oven.