Grandma's Macaroni and Cheese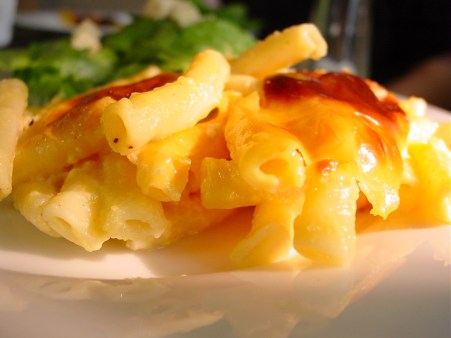 This is a recipe for macaroni and cheese that has been in Robin's mother's family. It was a tradition to serve this dish on Christmas Eve, but it is wonderful any time. Robin's mom enjoys this macaroni and cheese milkier than we do, so if you like it more milky, try and increase the milk to 4 cups.
Ingredients
We begin by heating a large pot of water over high heat for our pasta. We also preheat the oven to 400 degrees. We open up the cheese singles from their individual plastic wraps.
When the water is boiling, we add a little salt and the macaroni. We stir and time it for 5 minutes (it is still a few minutes away from al dente). We drain and put back into the pot. We stir in the butter unitl melted and add salt and pepper. We spread 1/3 of the pasta on the bottom of a 13 × 9 inch baking dish. We break up about 4 slices of cheese into large pieces and put evenly on top. We add another third of the pasta and 5 slices of cheese broken up. Then we add the remaining pasta and another 4 slices of cheese, again breaking them up. We pour the milk over the macaroni and cheese, cover with aluminum foil, and place in the middle of the oven for 30 minutes.
After 30 minutes, the macaroni and cheese is bubbling. We remove the baking dish from the oven, discard the aluminum foil, and cover the pasta with the remaining slices of cheese, this time not breaking them up. Prior to returning the pan to the oven, we lay down a large piece of aluminum foil on the rack of the oven to collect any spillovers. We return the uncovered pan to the oven. We raise the heat to 425 degrees and cook for 15 to 20 minutes until the desired browness on top. We remove the pan when we have a nicely browned top and let the macaroni and cheese rest for about 5 minutes before we dive in!