Squid Sauce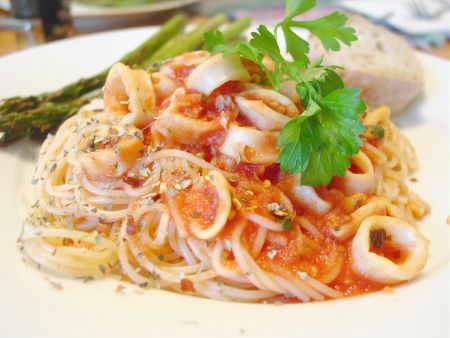 Robin has fond memories of eating calamari in tomato sauce over spaghetti. At the time, she thought it was spelled "galamad" (because that's how it's pronounced in Brooklyn), and had no idea it was squid. The preparation for this meal is made easier by using already cut-up, cleaned, and frozen calamari rings. We simmer the sauce for a quite some time until the squid are tender, but otherwise, it is a rather easy dish. We serve it over angel hair pasta at our daughter's request, but spaghetti would be more traditional.
Ingredients
½

pound

frozen calamari rings

squid

½

tablespoon

extra-virgin olive

oil

2

cloves

garlic

1

28 ounce can

whole peeled, organic

tomatoes

(Muir Glen)

1

4-inch stem

fresh, italian leaf

parsley

salt & pepper

red pepper flakes

1

dried

bay leaf

¼

teaspoon

dried

basil

¼

teaspoon

dried

oregano

1

tablespoon

fresh, italian leaf

parsley

⅓

pound

dried capellini

pasta
We start the meal by defrosting the frozen calamari rings in a colander in the sink under cold running water. Meanwhile, we add the oil to a medium pot and, using our garlic press, we crush the two cloves of garlic – one at a time – into the oil. We heat over medium-low heat while we get our tomatoes ready. We pour off some of the tomato liquid into a glass and reserve. Using our immersion blender, we purée the tomatoes right in the can for about a minute. When the garlic is fragrant, we add the tomato liquid from the glass and the puréed tomatoes from the can to the pot. We stir the sauce and add the fresh parsley stem, a pinch of salt, some red pepper flakes, the bay leaf, the dried basil, and oregano. We bring the sauce up to a simmer and partially cover.
After a few additional minutes, the squid rings are defrosted. We add them to the simmering sauce, re-cover partially, and cook for about 40 minutes. We stir the sauce occasionally and begin tasting for squid tenderness after about 25 minutes. Squid is either cooked very briefly or for quite a while to be deliciously tender.
After about 15 minutes of cooking the squid sauce, we start heating a second pot with enough water for the pasta.
When the squid is tender, we add the dried pasta and a pinch of salt to the pasta water and cook until al dente (tonight it just takes 3 minutes). We drain the cooked pasta in a clean colander and then put it back in the pot we just cooked it in.
We add freshly ground black pepper after tasting the squid sauce for seasoning. We add some of the sauce and the chopped parsley to the pasta and toss with tongs. We serve with additional sauce (discarding the bay leaf), more dried oregano and red pepper flakes.