Farfalle with Spicy Sausage Sauce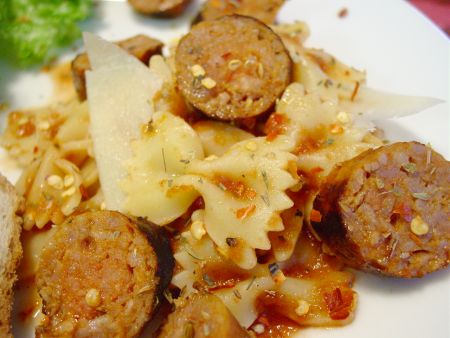 We flavor a homemade tomato sauce with hot italian sausage for a quick, easy, pasta meal. We prepared the sauce ahead of time and froze a portion of it, but any jarred tomato sauce can be substituted.
Ingredients
¾

pound

farfalle

pasta

½

tablespoon

extra-virgin olive

oil

1

pound

six hot italian links

sausage

2

tablespoons

dry red

wine

3

cups

frozen

sauce

dried

oregano

hot pepper flakes

salt

Pecorino romano

cheese

(Locatelli)
We start tonight's meal by filling our large pasta pot with water, covering, and heating it over medium heat. We place our Dutch oven on the stove and begin heating this as well over medium heat. When it is hot, we add the olive oil and the sausage links to the pan. We brown the sausage, turning occasionally with tongs, for about 7 minutes until they are nicely browned on all sides.
When the sausages are browned, we remove them to a paper-towel lined plate. Next, we use paper towels and our tongs, to wipe out some excess oil from the Dutch oven. Then, we deglaze the Dutch oven with the red wine, scraping up the drippings with a wooden spoon. We stir in the sauce and a sprinkling of dried oregano and bring the sauce to a boil. We lower the heat and add the browned sausages back to the pan. We cook, partially covered, stirring occasionally, and checking that they are just simmering, for about 15 minutes. We want the sausages to be at least 160 degrees in their centers.
Meanwhile, the water has come to a boil when the sausages have cooked in the sauce for about 10 minutes. We add the dried pasta and a pinch of salt to the water and stir. We cook for about 12 minutes until the pasta is just al dente. While the pasta is cooking, the sausages are done. We remove them from the sauce and let them rest for a couple of minutes. Then, we slice them. When the pasta is cooked, we drain it in a colander and pour the farfalle into a serving bowl. We stir in some of the sauce and top with the sliced sausages, more oregano, and red pepper flakes. We make cheese curls with our peeler and top each portion with some cheese.