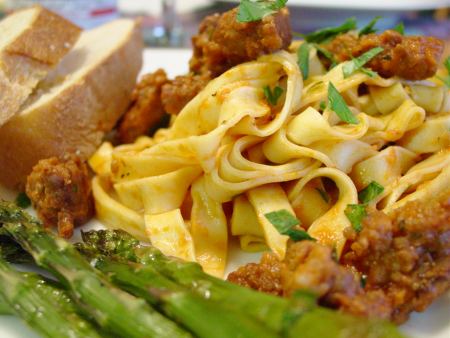 We serve this quick sauce over homemade fettuccine, but any cooked pasta shape would be wonderful. The uncooked sausage was in our freezer so a quick defrost allows the sauce to come together without a trip to the grocery store.
We start tonight's meal by filling our large pasta pot with water, covering, and heating it over medium heat. We defrost our frozen sausage links in the microwave by putting them in a bowl, covered with wax paper, on auto timed defrost for 5 minutes. We place our saute pan on the stove and begin heating this over medium heat. When the sausage is defrosted, we use scissors to slip the casings of the sausage off so we can break up the meat easily into chunks in the pan. When the pan is hot, we add the olive oil and the sausage to the pan, breaking up the sausage with a wooden spoon. We brown the sausage, turning occasionally, for a few minutes until the pieces are nicely browned. Meanwhile, we place the frozen sauce that is in a microwaveable container in the microwave and defrost it for a few minutes.
When the sausage chunks are browned, we remove them to a paper-towel lined plate. Next, we use paper towels and our tongs, to wipe out some excess oil from the pan. We deglaze the pan with the red wine, scraping up the drippings with our wooden spoon. We stir in the sauce and bring it to a boil. We lower the heat and add the browned sausage pieces back to the pan. We cook, partially covered, stirring occasionally, and checking that they are just simmering, for about 5 minutes. We want the sausages to be cooked through.
Meanwhile, the water has come to a boil. We lower it and wait for the sausage sauce to be ready. When the sausages are cooked, we stir in the heavy cream and the parsley. We keep the pan on low heat while we return the pasta water to a boil.
We add the fresh pasta and a pinch of salt to the boiling water and stir. We cook for about 2-3 minutes until the pasta is just tender. When the pasta is cooked, we drain it in a colander and pour the fettuccine into the sauce. We stir with tongs and serve with hot pepper flakes and freshly grated Locatelli.