Baked Ziti (How I Learned to Love Leftovers)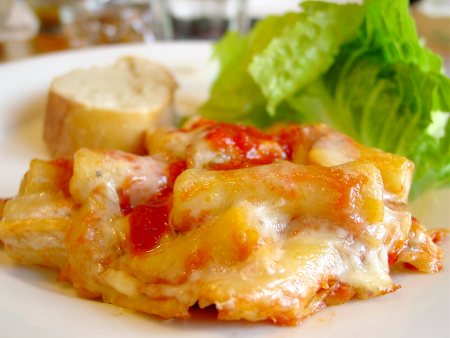 We were going to grill burgers today. Alas, we ran out of time and enjoyed some leftovers instead.
Today was a beautiful spring day. The entire family went on a morning walk. Our daughter rode on her two wheeler (still with training wheels, please stop growing so fast). Our boy rode in his Pooh car, which made him just as pleased with himself as a two year old boy can be.
We meant to stop by the local market in the afternoon. The walk back from the park got a little hot. Eventually, cooling off obtained too much inertia. The rest is leftovers.
We had some undocumented ziti on Wednesday. It was a quick meal in which we used the sauce from last Sunday's fusilli. We couldn't eat it all, so we tossed the remainder of the fusilli sauce with the leftover ziti and froze it. There wasn't much sauce – just enough to coat the pasta – so we supplement the sauce in tonight's baked ziti with the sauce that we froze from the sausage calzone meal at the beginning of the month.
We would have added a new recipe for the baked ziti, but we already have two (regular and with fresh herbs) plus the ingredients list would have been far too difficult to explain (as evidenced by the preceding paragraph).
The recipe would have been something to the effect, we put some of the heated calzone sauce at the bottom of a baking dish, add the pasta, some more sauce and top with provolone cheese. We baked at 375° for about 20 minutes and served hot.