Memee's Macaroni and Cheese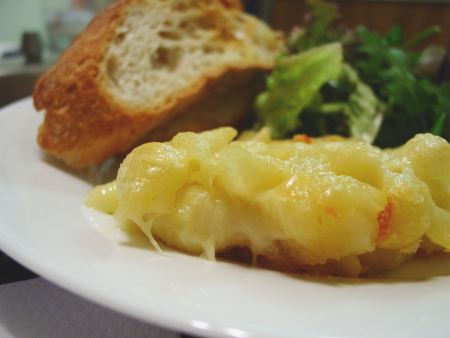 This is a very simple macaroni and cheese. A little pasta. A little milk, butter and cheese. Bake for 40 minutes and you've got a meal! The original source of this recipe is our brother-in-law's grandmother, hence the name of the recipe.
Ingredients
1

pound

shells

pasta

1

pound

imported swiss

cheese

1

cup

2%

milk

6

dabs

salted

butter
We pre-heat the oven to 450 degrees.
In a nine inch pie pan, we add half of the pasta. On top of that, we add half of the cheese. We then add the other half of the pasta. Finally, we add the remaining cheese, the milk, and the dabs of butter.
We cover the macaroni with aluminum foil and bake for ten minutes. We lower the heat to 350 degrees and bake for an additional 30 minutes. Finally, we remove the foil and put the dish under the broiler for five minutes to get the top crispy.