Macaroni with Cheese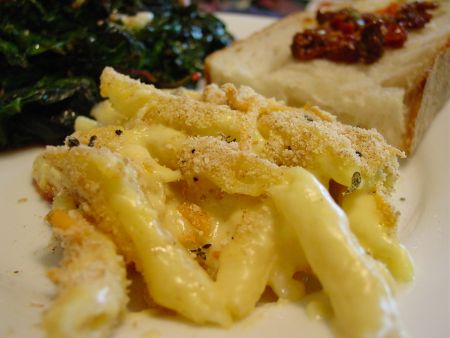 Waste not, want not: we used leftover pasta, leftover cheese. Even the side dishes were leftovers. Mixing and matching these made the meal seem quite unique.
Ingredients
2

tablespoons

butter

4

tablespoons

all-purpose

flour

2

cups

combination of skim and 2%

milk

1

cup

shredded cheddar and american slices

cheese

1

cup

plain

bread crumbs

2

2-inch sprigs

thyme oregano

1

pound

cooked penne

pasta

dash

nutmeg

to taste

salt & pepper
We pre-heat the oven to 350 degrees.
We had prepared the pasta the night before. To prevent the pasta from becoming a big clump in the refrigerator, we mixed it with a little oil.
In a medium pot, we melt the butter over low heat. We add the flour and cook for four minutes. This butter-flour mixture is known as a roux.
We heat the milk in the microwave on full power for a minute and a half. We whisk the heated milk into the butter-flour mixture and increase the heat to medium, stirring often until it comes to a boil. We add salt and pepper and a dash of nutmeg. We then remove it from the heat and add all but 2 tablespoons of the shredded cheddar. The sauce is added to the pasta and put into an 8-inch square baking dish.
We prepare the thyme oregano by stemming it – removing the leave from the stem. In a small bowl, we mix the bread crumbs, remaining cheddar, thyme oregano, and salt and pepper. This mixture is sprinkled on the pasta and the dish is baked for about a half hour. We want the macaroni and cheese to be bubbling and the topping browned.