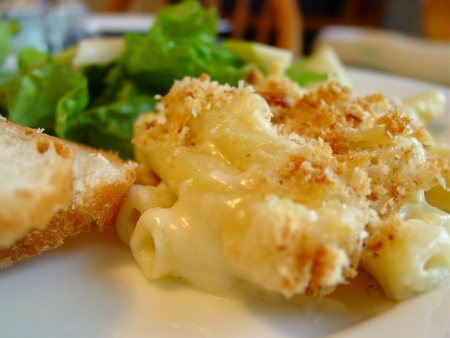 We vary our traditional cheddar/american cheese macaroni and cheese using italian fontina cheese. We add a crisp topping by blending a day-old baguette to make homemade bread crumbs. It is both creamy and crunchy.
We pre-heat the oven to 350 degrees.
In a medium pot, we melt the butter over low heat. We add the flour and cook over medium-low heat for four minutes. This butter-flour mixture is known as a roux.
Meanwhile, we heat the milk in the microwave on full power for two minutes. Using our flat whisk, we whisk the heated milk into the butter-flour mixture and increase the heat to medium, stirring often until it comes to a boil. This takes about ten minutes.
While the sauce is coming to a boil, we shred the fontina cheese with our box grater, yielding about 1.5 cups.
When the sauce is boiling, we lower the heat and boil for a few more minutes, stirring well. We add salt and pepper and the gratings of nutmeg with our microplane. We then remove it from the heat and stir in the fontina. When it is all melted, the sauce is added to the pasta and put into a 13 by 9 inch baking dish.
In a small bowl, we mix the bread crumbs with the Locatelli. This mixture is sprinkled on the pasta, more salt and pepper is added, and the dish is baked for about 20 minutes. We want the macaroni and cheese to be bubbling. The top is not crispy enough, so we put the baking dish under the broiler for a few minutes. When it is bubbling and browned, we remove the baking dish from the oven and let rest for a few minutes before cutting in and enjoying!